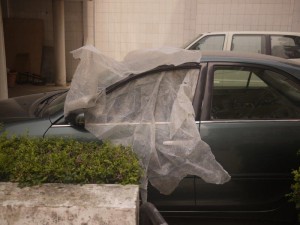 Midis Energy Services Limited and the other MPS (Man Power Services) contractors invoice SNEPCo $55.00 per working day for "logistics" – the provision of a vehicle and driver for each contract staff for the commute to the office.  The Nigerian drivers are paid from 30,000 to 50,000 Naira per month depending on the MPS contractor with Midis at the lowest end of the scale.  This was about $190.00 to $312.00 in 2012 and about $158.00 to $263.00 at today's exchange rate.
The streets in Lagos are in very poor condition and deteriorating every year due to poor governance and corruption.  Small 4 wheel drive SUVs are ideal for the poor road conditions and crowded streets.  With a driver costing $13 a day at the high end of the pay scale, $42/working day (about $1000/month) remains to pay for the vehicle.  If cheap enough vehicles can be used, this can be highly profitable for the MPS contractor.
Although $1000/month would easily pay for a luxury Infinity SUV or a B6 armored Suburban with some money left over for profit, there is an incentive for the MPS contractor to provide a "junk" vehicle if they can get away with it.
The Toyota Camry that was provided by Midis Energy Services Limited when I came to Nigeria in August 2012 was manufactured on 1 Oct 2001.  It was exported from New Jersey to Benin on 31 Oct 2011 with 218,124 miles (351,037 kilometers) 10 years and 30 days after manufacture.  Since it is not legal to import vehicles over 10 years old into Nigeria, it was smuggled into Nigeria from Benin.  The data plate from the driver's side door jamb had been removed and the odometer rolled back to conceal the actual mileage and age (probably when it was smuggled into Nigeria from Benin).